[Exhibition] Spider Portfolio @ Avalon Cafe, June - July 2023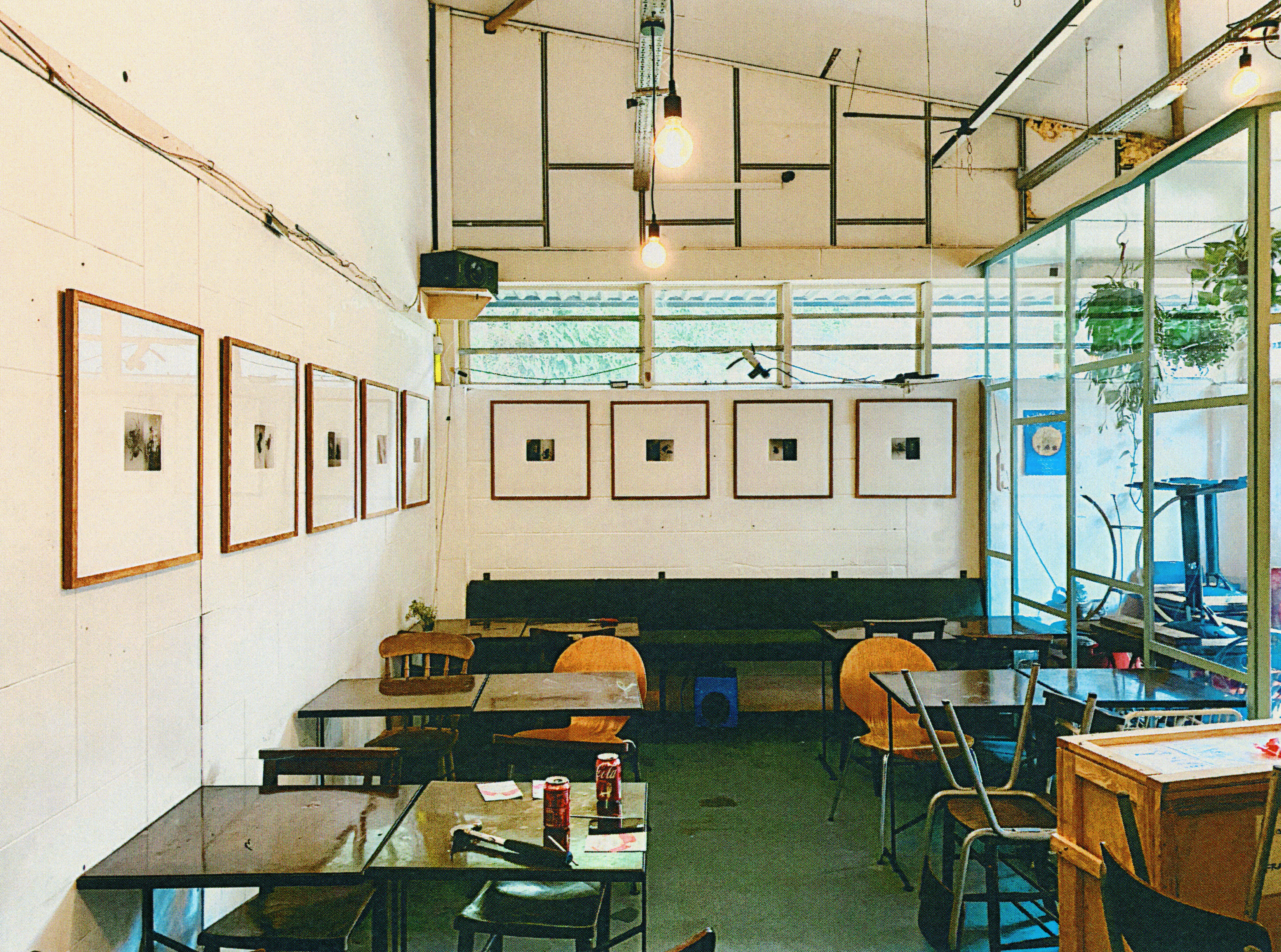 One month hang in Avalon Cafe Bermondsey, lining walls between which evenings consist of everything from chess clubs to late-night techno. Showing in an event space has its good and bad sides, here there is a versatile footfall... people from all walks of life and professions pass through the cafe, who may never have stepped foot in Filet... but I was doubly careful to make sure the frames where fixed solid. I shared the PV with a Ukranian techno label called Shshchts, who were set up in the adjacent room, lovely people, but I had to ask that my frames not be used as a coat hanger for band merch.
There is an energy shift showing work outside of galleries, and hovering between these two worlds one is reminded that both need special consideration. There is a special anxiety involved in not knowing if your work will return to you in one piece... but it reminds me that there are many ways to communicate visual work... and sometimes letting go of perfection becomes a useful exercise. However, through this show realised that I was not comfortable with displaying these particular works (being a single edition and of a vulnerable nature) in a venue whose priority was not the protection and consideration of potentially fragile artworks.
In this case, I began to consider my desire to be involved in such spaces, and how the works that I make may shift towards being appropriate for such events. This coincided with a trip to the Moki Cherry show at the ICA, and a growing interest in the versatility of textiles and how they can accommodate for a world far removed from cotton gloves, bubble wrap and archival crates.
What I like about this process, considering my following textile flag works (Below this thread) is the chain of inspiration made visible... the seeking to collaborate, to be involved in community spaces and around music, itself affecting the work. Work adapting to surroundings, a morphing/ changing of output to fit new and evolving wants and needs. The lightness, packability, and versatility of textiles meet certain needs for resilience, flexibility and transport that glass frames don't.
Materialising from responsiveness to the unpredictability of exhibiting outside of the gallery walls, the works themselves become an artistic expression of the requirements they seek to fulfil. They are unpredictable... as they quiver in the wind, as they meet shafts of light filtering through the trees... and in their unpredictability they are versatile, designed for interaction with the world.
---
[Comission] Making work towards Three-Wheel-Drive (3WD) festival artist commission. Flags, museums, ART-E-FACTS and the functional liberation of time:
Flag For Breathing In / Flag For Breathing Out, 2023, oil on cotton, individually 210x75cm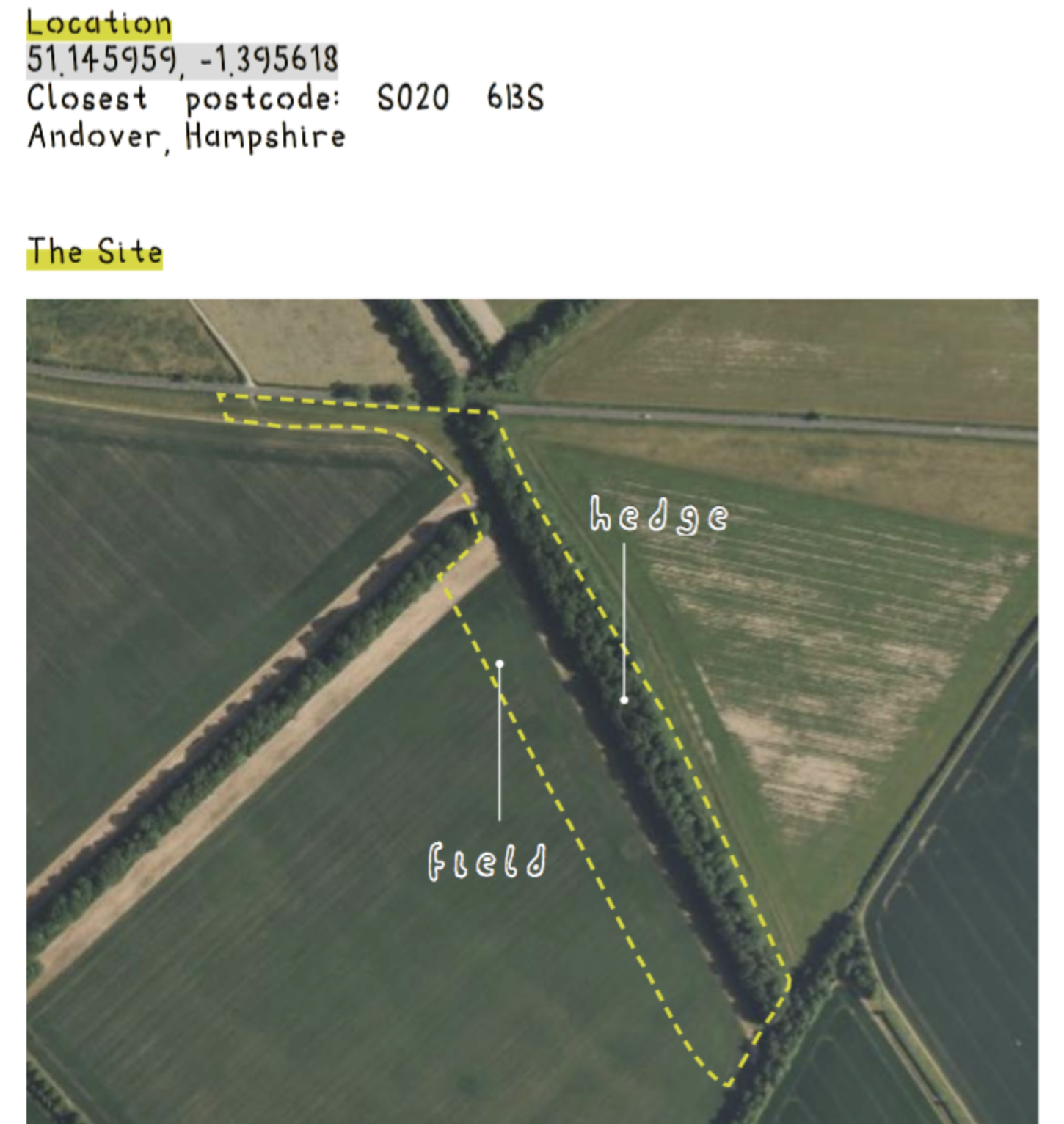 I contacted my friend Ralph about this event as I heard he was working as a curator this year for the festival. This will be the final edition of 3WD (Hampshire) - a small music festival "specially designed by architects, artists and makers."(1). Ralph is curating several artists (some of whom I have previously shown alongside) to exhibit work in the woodland which acts as a passage between stages at 3WD. Ralph stipulated that he is looking for works that have something to do with 'man' and 'nature'... that focus on those gaps or crossovers, or occurrences when these two seemingly self-polarised forces cross over... I guess in this context considering humans as we are now... somehow both industrially, and egotistically removed from 'nature' and simultaneously longing for our return to it.
I have worked with Ralph before on projects he has curated for outdoor environments, such as a show titled Soul Retrieval, which took place in Beckenham Place Park in 2022. Feeling particularly inspired by the changing seasons, as well as Moki Cherry's recent show at the ICA in which many of her tapestries made for her and Don Cherry's music events were exhibited, I was feeling particularly excited to produce work for an outside space. Making work for a festival, as I see it, is an opportunity to be part of forming a microcosm, a world in which a small group of artistic decisions shape the experience of several days, where the focus is on togetherness, friendship, recreation, and communication. I wanted to create something colourful, using raw/ un-mixed pigments, something communicative of wonder (Nature), but also of searching for sources of knowledge (Man), and of creative respiration - looking inwards by looking outwards, and looking outwards by looking inwards.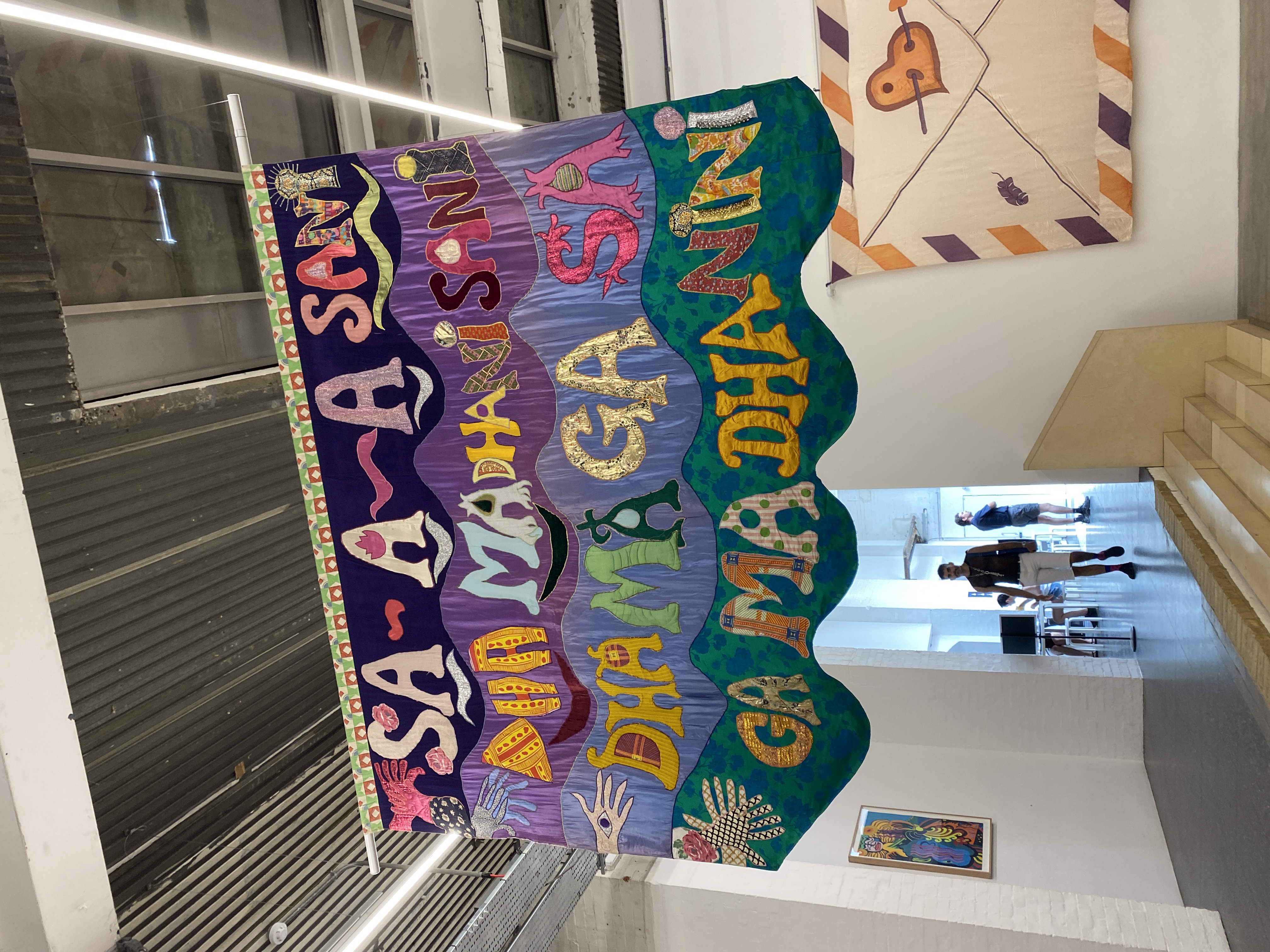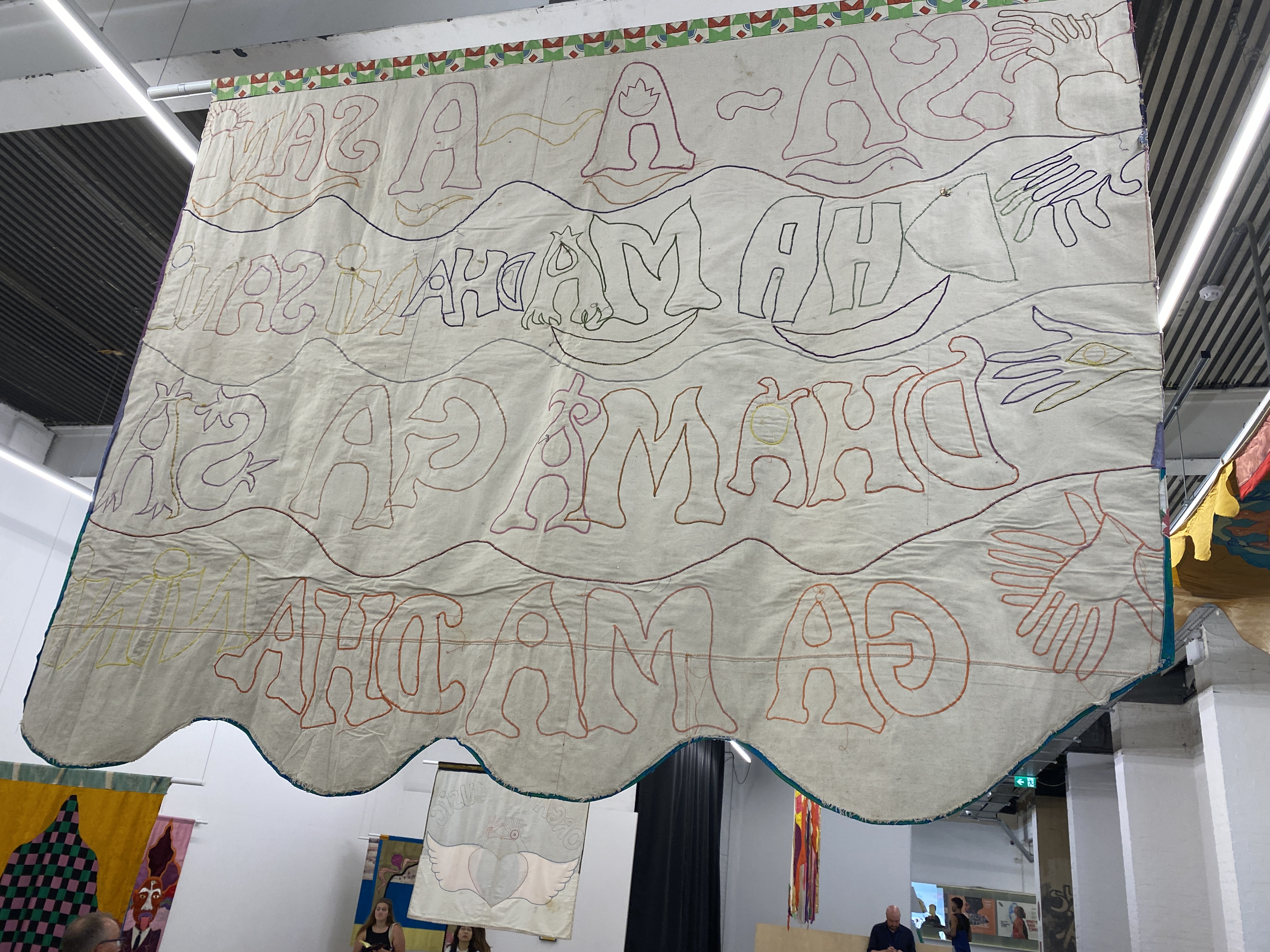 Moki Cherry 'Here and Now' ICA London, 31 May – 3 September 2023.

several months before contacting Ralph I had the idea of making some flags, having become increasingly interested in textile works since the launch of our publishing/bag-making output 'JAAM'(2).Re-visiting the V&A collection recently, I was struck by a special kind of history and travel embedded in textiles, through functionality and a closeness to life and living. Rugs, garments, flags...serve domestic, personal, and societal functions - putting them in the zone of the 'artefact', where we can observe a bridge between creativity - experienced over time - as a liberal force of transformation, and the conservatism of any temporarily empowered material society/ structured world. Both feed each other cyclically. This is to say we see how Art is imposed upon by the material every day, and the material every day is - through history - imposed upon by Art.
Flags especially, seem to stimulate conversations that orbit the roots of my practice; in how notions of functionality operate alongside notions of the art object. Dealing with so much weight and functional contradiction, as objects intended to be visually and allegorically representative - through symbolism and storytelling - of surely un-representative things, I wanted to explore flag making through physical research, considering how a flag (that is to say a single representative image) could attempt to represent/ or fail to represent my practice. 3WD became the opportune moment to go into this.
Asafo flags (3):

Left: c.1960s Made by Kobina Badowah & Sons at the Kormantse workshop.
Right: Made between the 1940s - 50s by Kweku Kakanu at the Saltpond workshop in Ghana.
Afghan war rugs (4)

Coming back to the museum, when we observe artefacts we experience something akin to the 'Functional transcendence' spoken about in Jeremy Millar's 'The Way Things Go' (5) insofar as we can witness time delivering the truth of any object as an empty vessel.
Although such objects are displayed in museums with the intention of informing us of cultures and histories, what I argue one experiences in a museum is the one constant truth that nothing is ever settled.
I was recently at the British Museum, looking at the Egyptian Sarcophagus, the Mayan jade heads, and the 20th-century Mexican shaman's ceremonial bags. Walking between rooms I travelled time, whole knowledges, religions, civilisations - each one, a variation of the same line of questioning. Where do we come from? why do we die? what is truth, and where can we find it?
Such collections as a whole make the definitive statement, that there are many answers to the questions we share, but in fact it is the questions we share that bring us together. In terms of answers, they act as flags do. They are hoisted and lowered with equal importance, figureheads of collective agreements, civilisation, and methods of operating and organising. We can think of anything which seeks to represent a group of ideas as a
'flag'
.
'flags'
(as in 'answers'/ to be considered an umbrella for everything from Religion to scientific fact) can be liberating in one breath and oppressing the next, and can be so powerful as to instil in us the illusion of permanence, but we only have to go to a museum to remember the truth of time.
Continuing with this logic I would like to term the 'artefact' as the evolution of the 'object'. If we can bypass the illusion of an artefact as an object representing a chapter of history and discuss it as an entity existing in the present, we then find ourselves encountering objects transcended. Entities which have become subject, within the setting of a museum, to multiple overlapping histories and futures. Within this sensibility, artefacts are no longer insulated, not in any way sealed in time or automated as they may once have been, because they are expanded through time-travelled and the subsequent multiplicity of having become something that has changed, surrounded by other things that have succumbed to change, and that we can see will continue to change forever.
It reminds us of the inevitable nature of all things and the unavoidable consequences and creativity of time.
When an object/ artefact/ '
flag'
becomes liberated through time, all the history that has accumulated around it saturates, and what is left is an object itself, a story and a list of materials. This leads us to the question, what does a
'flag'
- a representation of a group of ideas - become when all those ideas it represents have come to pass? In a brief moment of epiphany it becomes nameless, nothing.
From the British Museum collection:

A) Painted wooden coffin of Passenhor (interior). Late 22nd/ early 25h Dynasty, 750-720 BC, Thebes

B) Jade head, AD 400-800, Maya
C) Acrylic bag (worn by the shaman on ceremonical occasions. many of the designs represent the peyote cactus), 20th centuary, Mexico
However, as soon as we are confronted with such an object, an object theoretically outside of time, we are triggered to try to re-attach it to time (this simulates the conventional reading of an artwork or an artefact). An object liberated becomes unsatisfactory, It is an unsolved puzzle. To confront this we may turn to semiotics, imagining it as a group of symbols (themselves distilations of ideas). The liberated object becomes something to be read and studied, it becomes instructions for re-learning something lost. We would read such a flag through the same lens we discovered the flag itself was formed. We would put ourselves into the lore, the history, the systems that date the figurehead. Symbols found would be consulted with the relevant lexicons, and aproximations, and hypothoses would be drafted concerning information found. We would try our hardest to re-figure the box from which said object came, and if we couldn't we would create a new box to solve the puzzle.
This is a karmic cycle which defines our modern relationship to the outside world and is emulated in the convention placed on an artist to explain their work, or a museum to divide their collection.Once we become comfortable with the notion of loss, and dilute the importance we give to explanation, we may begin to shift from curiosity back to wonder, however, as an artist I feel I am always battling between these two worlds. Spiritually we may understand the true nature of all things, as containers, screens onto which we project, and yet that may not quench the impulse to do so. What is important is to consider the loss of meaning as a gift, it is a functional transcendence, which is to say an opportunity for creativity to once again take the reigns, and sometimes it makes me think the only true action of an artist would be to stop making artworks.The flags I have constructed meditate on this dichotomy... the simultaneous need for departure and longing to return, there is an inward/ outward motion I have tried to visualise that defines not just our relationship to the natural environment, but as I have tried to illustrate is our whole nature of being. The apples simply represent something that is the same but different.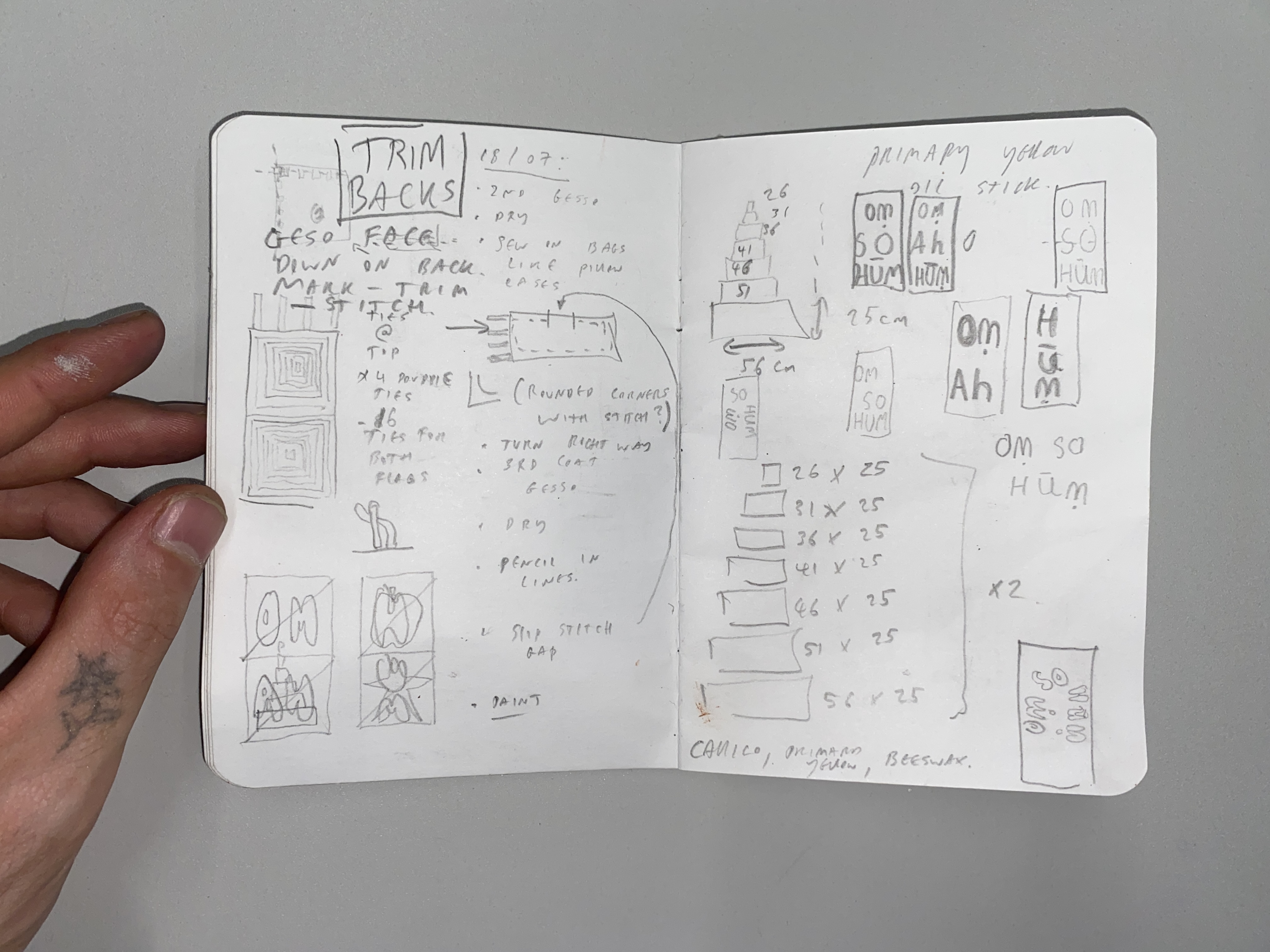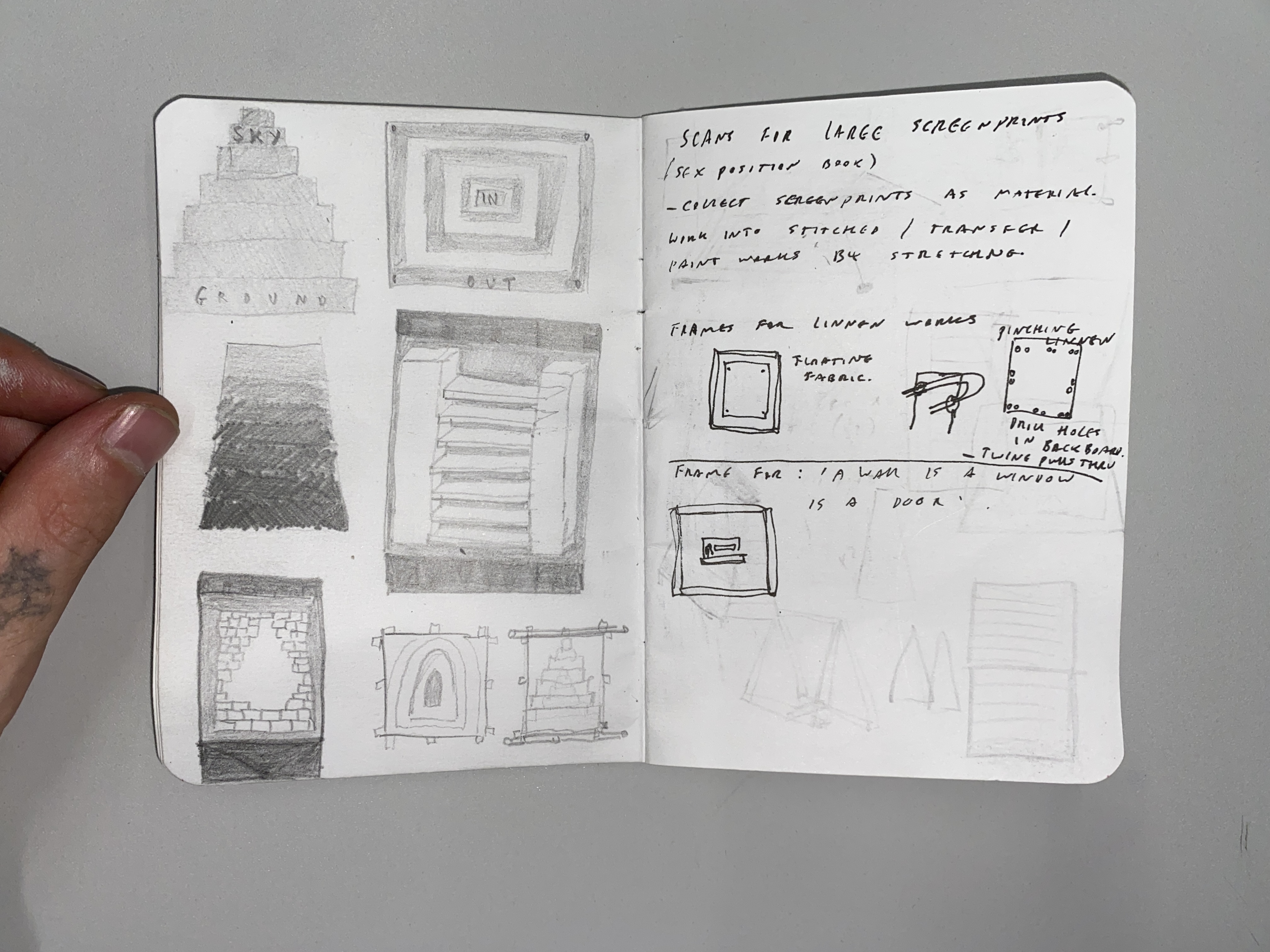 1)
www.threewheeldrive.co.uk/
2)
www.instagram.com/ja.am.2000/
3)
www.asafoflags.com/
(4)
https://www.warrug.com/
(5)
Millar, J. (2007) Fischli and Weiss - The Way Things Go. London: Afterall.
---
[Publishing Project] BOP (Books on Photography): The annual photobook festival from Martin Parr Foundation and The Royal Photographic Society:
Launching JAAM's 2nd publication 'Some place I know but have never been' Amrit Singh Sandhu, 2023, (Ed 50) & selling JAAM's 1st publication 'Substitute Electro Kilim' (see
Practical/ Studio and exhibition development
&
https://jacobclayton.co.uk/Publications
) as well as Displaying for review 'E2-E4', Jacob Clayton, 2017, (Ed 100) & 'SLC19 (dummy)', Jacob Clayton, 2023, (Ed 01) & circulating free handout 'Lexicon for reading recent works by the artist Jacob Clayton', Jacob Clayton, 2023, (Ed 60).
'Some place I know but have never been' Amrit Singh Sandhu, 2023, (Ed 50):
Continuing JAAM's trajectory into book/zine publishing Amrit (co-founder) and I worked on publishing a new book project in time to take part in BOP 23, as invited by 'Make Hay While The Sun Shines' (
www.instagram.com/makehay.whilethesunshines/
) In this colaboration with Amrit, I took on the role of consultant and producer/ publisher/ publiciser, utilising my experience in self-publishing to help her materialise her idea. We produced an edition of 50 copies, establishing a working relationship with a newly sourced local printer, and personalising each copy with a hand-stamped title.
Selected spreads of Amrit Singh Sandhu's: 'Some place I know but have never been', 2023, (Ed 50) JAAM Publishing.

Press release I wrote for the book launch:
Some Place I Know But Have Never Been, Sandhu's debut photo-centric publication, extends enquiries made in her painting practice into a dissection of family history and memory, sequencing archive images and documents collected from her family home in Amritsar.
Utilising the photographic tradition of cropping, Sandhu zooms into established memories, finding new objects of focus within what she terms "surrounding, non-main-character, background information".
Sandhu writes, "Making this book has involved a direct working with photographs that I have used as a reference for paintings over the past few years.
Using compositions as reference for canvas works, I have become more and more interested in the physical prints themselves, many of them having worn over the years, or becoming marked with stains or annotations.
[…] Many of the photographs I have used were taken by my Dad - who is also a painter - on his old Kodak Brownie camera… and I have been using this same camera recently to photograph myself. In this gesture, similarly to working with these images, I feel like something is being passed on, but at the same time something old is turning into something new"
Asserting a departure from established linear memory, Some Place I Know But Have Never Been allows for new unknown moments - separate but together - to come to the surface. Sequencing images in pairs, Sandhu forms a new mental architecture within these spreads, in which conventional notions of time and space are overcome in the process of reclaiming her mental DNA. Undoubtably harnessing a painter's understanding of information/data/memory as malleable form, here Sandhu asks; what remains in the ageing image, how do stories evolve over time, and how does memory function as a physical art material?
'Lexicon for reading recent works by the artist Jacob Clayton', Jacob Clayton, 2023, (Ed 60):
As JAAM has evolved, and having personally made publications in the past which due to technical, financial and time-based requirements have had to be sold at high prices - I have become increasingly inclined towards the exercise of producing cheap publications for purposes of circulation. As I presently consider the book form, it is a vessel through which to share ideas. Something which should be pocketed, taken home for re-analysis, lived with, used, and remain in certain important situations non-precious - insofar as it can shared/ swapped/ annotated/ gifted.
For BOP I redesigned the lexicon that I produced for 'For a second I felt I knew something'
https://jacobclayton.co.uk/U3-Show,
printing an edition of 60 to be given free of charge.
This functioned as a form of expanded business card, not only introducing an audience to ideas within my research practice but also directing them to website/ contact information.
Producing this small booklet - coming back to the form of the lexicon - I realised that the form itself mirrors practical aspects of my work and research. Serving as another form of catalogue It provides a space for many independent ideas to be housed, in a way that makes connections possible but does not dictate or direct them into a linear narrative. In this way, it is a form of atemporal writing - mirroring experiments made with atemporality and symbolism in my studio work. This has become a way for me to adequately express various and ever-expanding strands of my research... presenting ideas as a collective/ conspiracy, with the onus being a presentation of possibilities, rather than a personal completion of a succinct theory/ argument.
In this format one (any reader/ in any time/space) can pick up and drop off strands of thought as they see fit. The lexicon can be used as a map for the navigation of works (a simulation which can be projected onto past and future unknown territories to the same effect), and can also provide a puzzle in itself as one is coaxed into making connections between things that may themselves remain subjective and infinitely changeable.
Through the form of the lexicon, I feel an evolution from my poetic/ manifesto writing (
https://www.dropbox.com/s/9blvw9d094c2d1g/J.%20Clayton.%20Horizontal%20movements%20manifesto%2C%202020.jpg?dl=0
). In this mode, I can use the written word in the same way that I am driven to use materials in my physical work. In this function, the communication seeks timelessness, like the periodic table, or an alphabet...with the listed symbology/ data existing in a kind of slumber/ dormancy outside of the temporal user.
Expanding and re-publishing this lexicon is thus what I have decided to do in preparation for the upcoming research festival. 'Lexicon for reading recent works by the artist Jacob Clayton', Jacob Clayton, 2023, (Ed 60)

---
'SLC19 (dummy)', Jacob Clayton, 2023, (Ed 01):
Also presented at BOP, was my SLC19 (dummy), a large format (A3) updated edition of SLC19. This is a catalogue that has been designed/ sequenced for a few years, having been the focus of lots of dummy experiments, but remaining unpublished. This edition was produced for a meeting with a recently met publisher and currently exists as a single copy. It was displayed at BOP as not for sale, but inviting feedback - an exercise which garnered some nice responses, particularly to do with the new large format. The publication is composed as a musical suite in four parts, containing, in addition, two interludes/ manifestos situating the separate but together movements. The catalogue exists as a coming together of separate works through threads of a shared and expanding philosophy with roots in the function of the photographic image and its ties to problems of reality. A world in itself, the system the book emulates is that of a musical suite (inspired by classical music as well as the construction of John Coltrane's 'A Love Supreme' 1964), but this is a constructed world/machine/ system that shares essentially the same function as the Tarot, or an alphabet. One can see how my recent lexicon extends this methodology.
The works contained continue to exist as independent entities outside of the book, which itself becomes an important function of the catalogue. For example, a recent solo show at Serchia Gallery, Bristol - consisted of the exhibiting of Spider Portfolio, alongside a reading of one of the manifestos 'Horizontal Movements'. The continuation of activity outside of the catalogue form perpetuates the problem of the catalogue itself, allowing it to function actively as a shifting puzzle.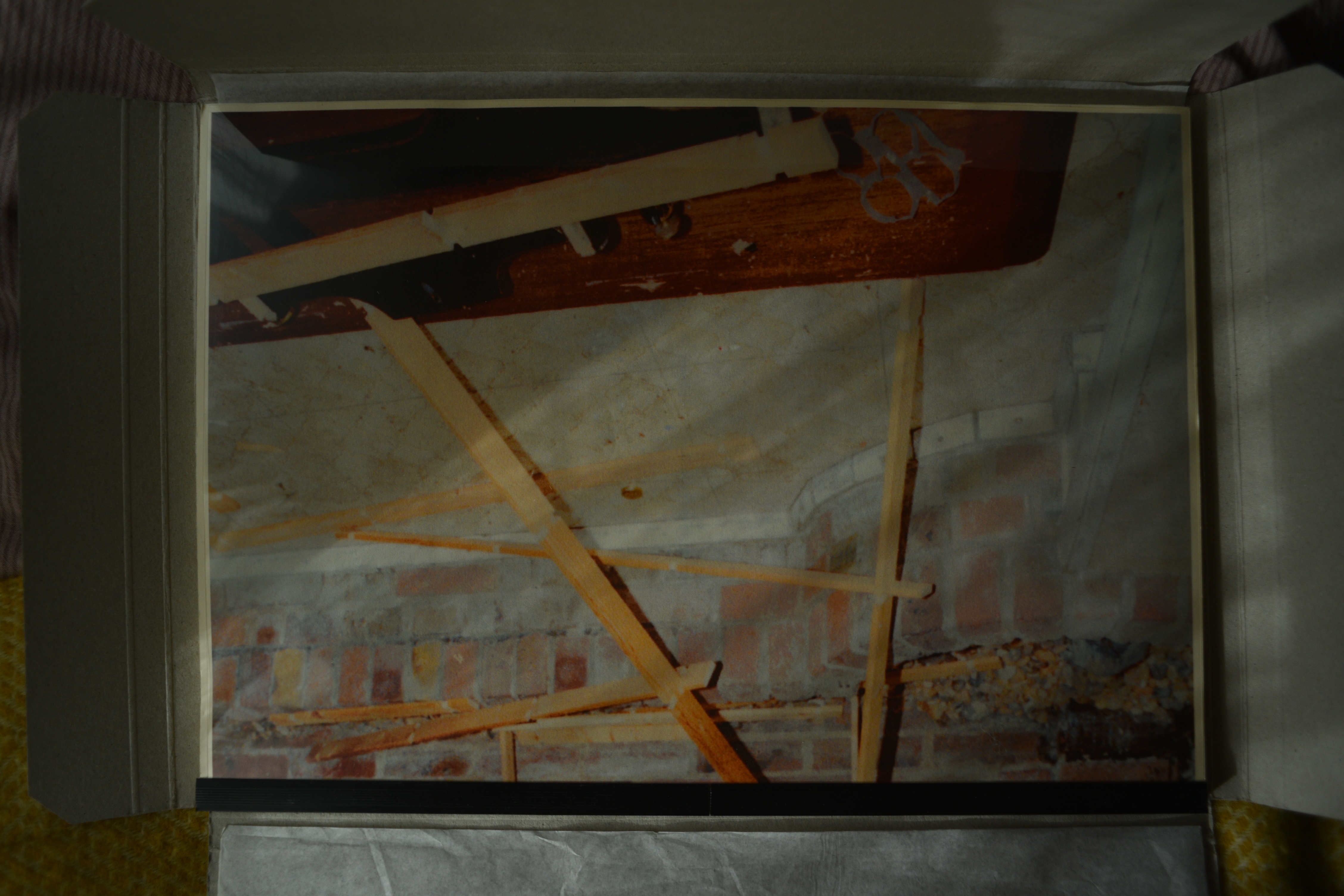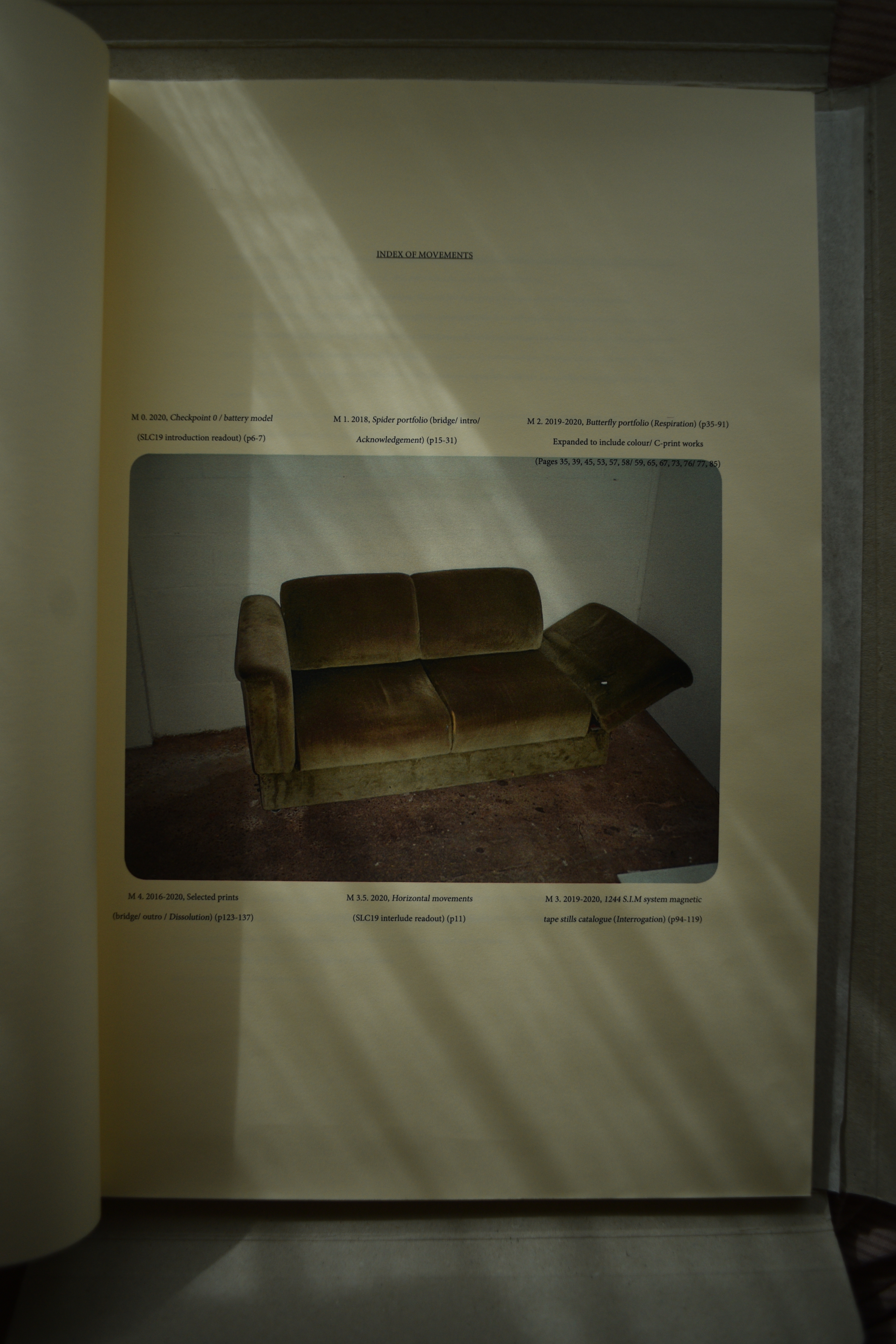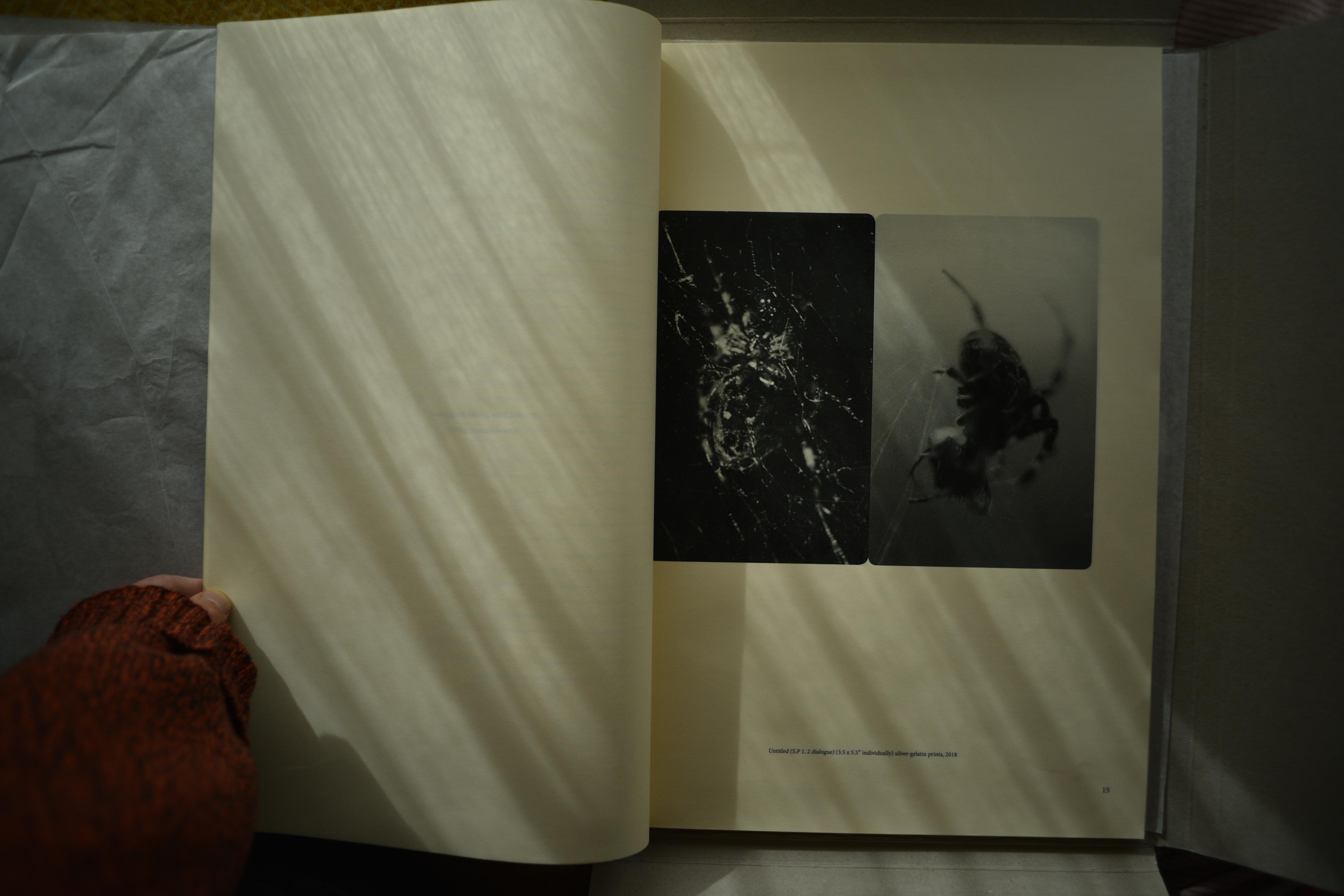 ---
[curatorial project] Interzone meeting 4: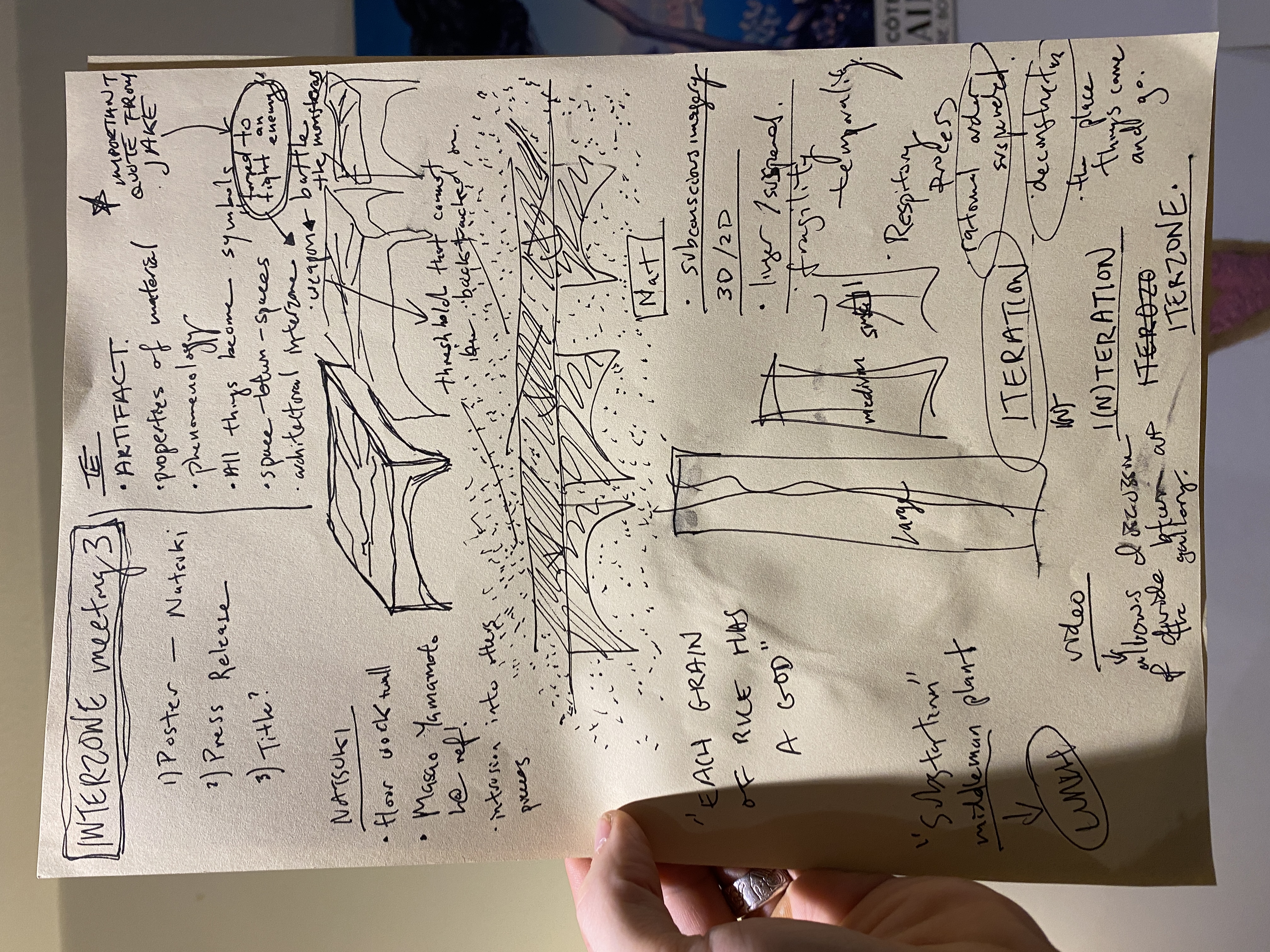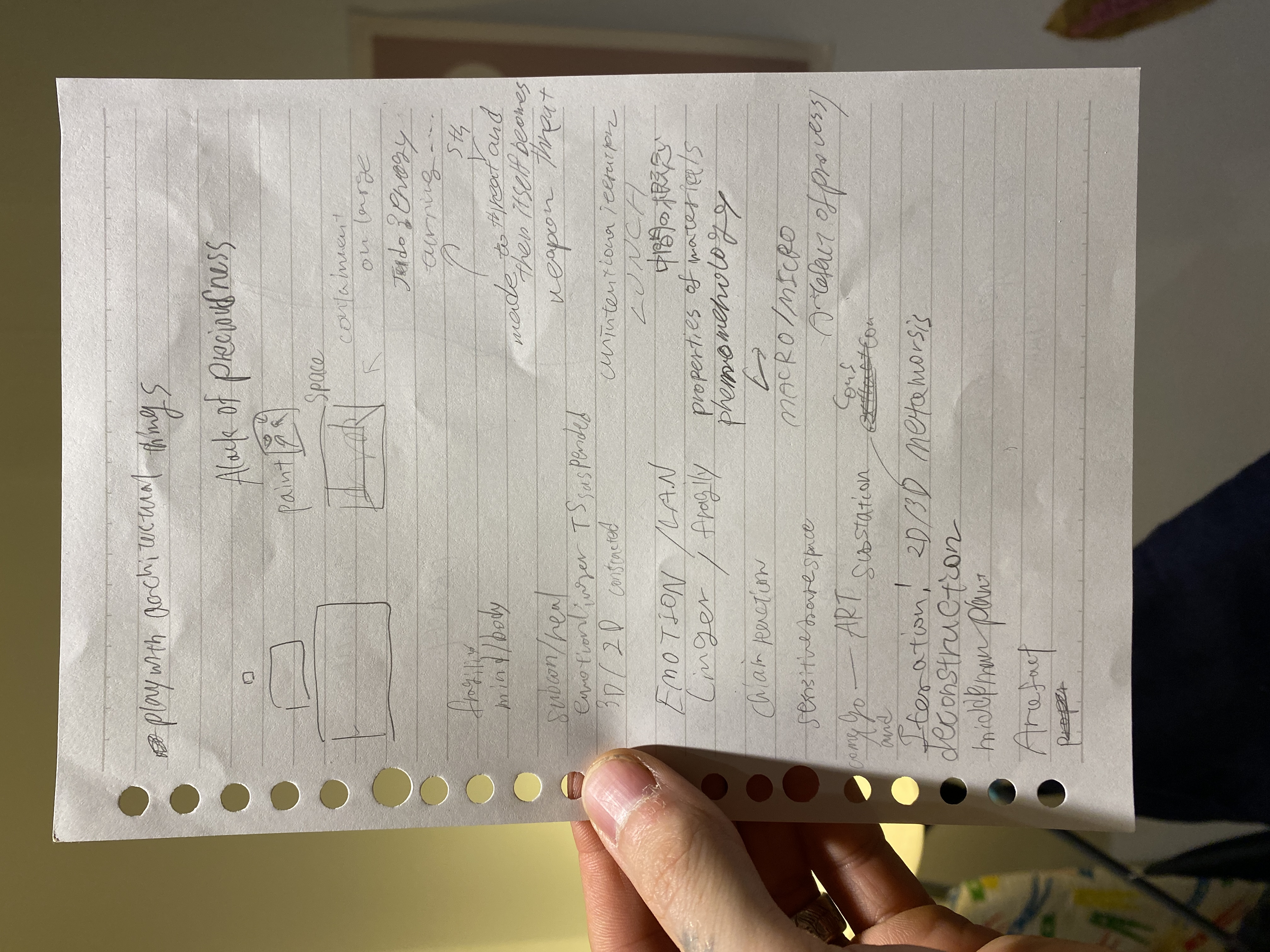 Te's and Natsuki's meeting notes 23/10/23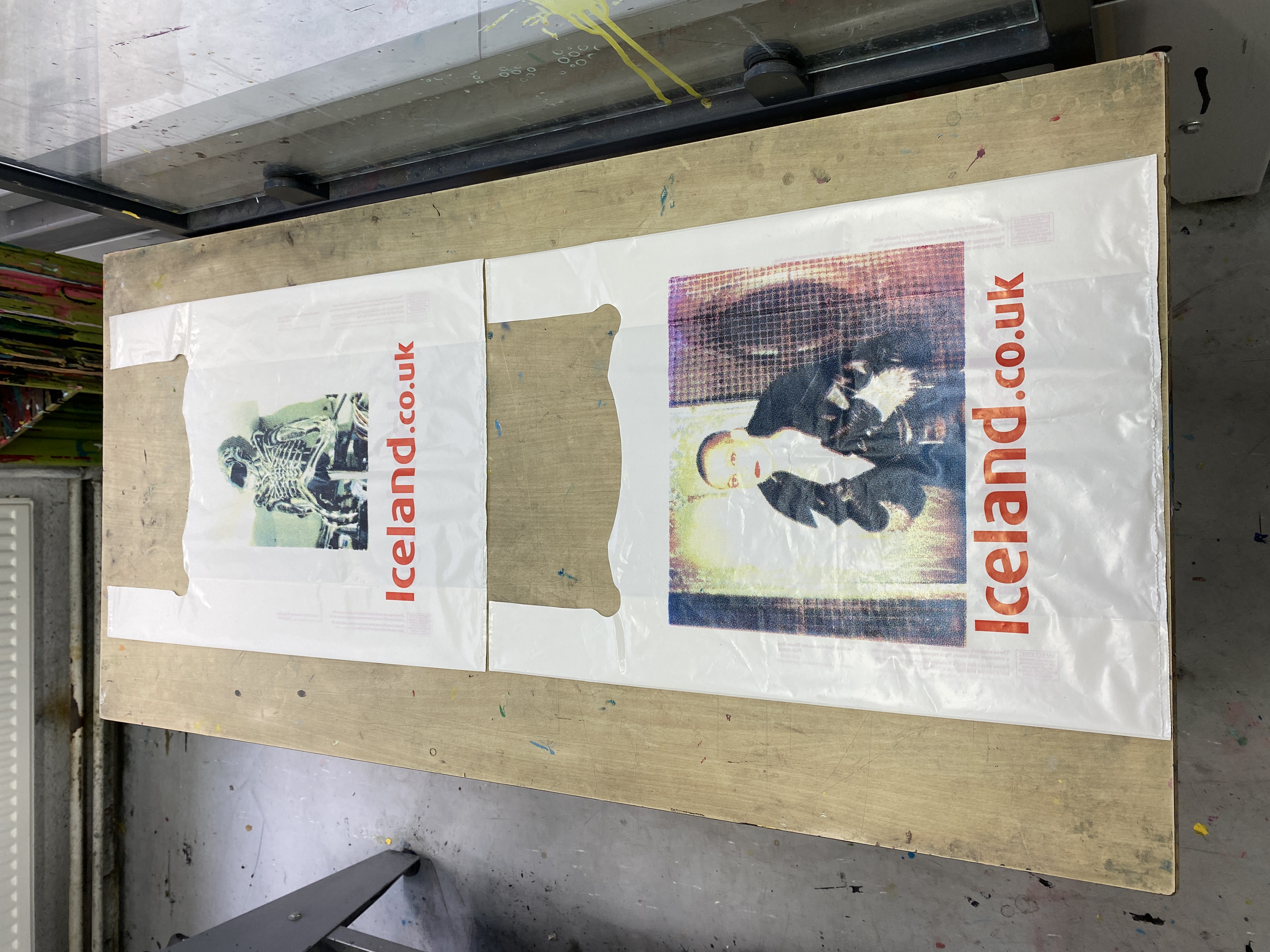 Works I have been making towards the show, photo transfers on ceramics & 4 colour separation screenprints on plastic bags.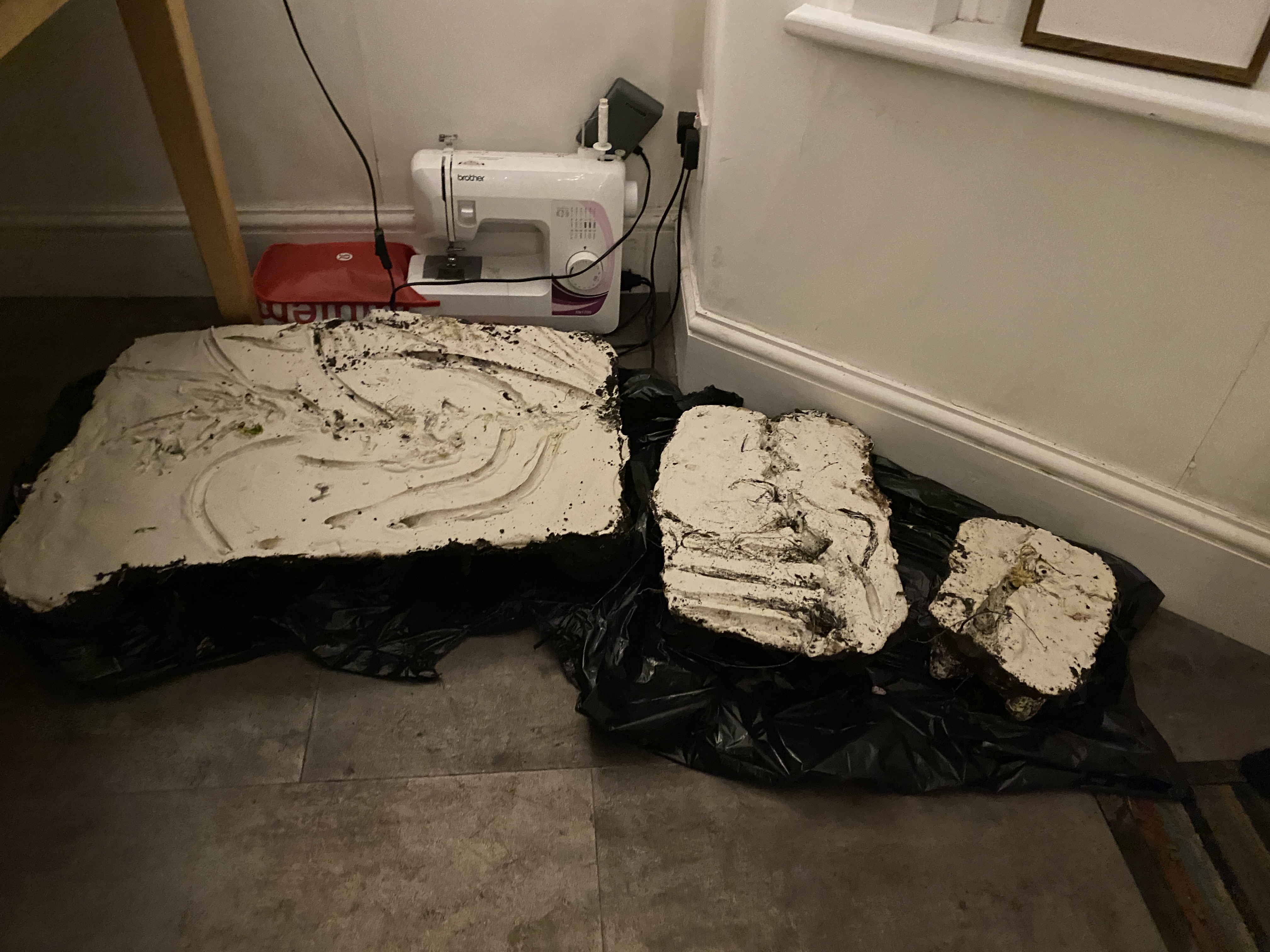 Te's recent 'spinal casts' made for the show.
In this meeting, we began discussing more practical aspects of the show, imaginations of where works will be situated in the space, as well as ideas on mixing up our works into combined forms. Themes of digestion, bodily processes, and consuming/ processing - through the gimmick of food and eating have come to the fore, Natsuki recounts a Japanese fable that every grain of rice contains a tiny god.I showed some recent work in which I have had behind-the-scenes photographs of Ridley Scott's 'Alien' printed on cheap tableware, as well as 4 colour separation screenprints I have been working on, using plastic bags.post U3 hand-in all efforts will be directed into preparing for the show PV (11th November).
---
[Event] LateWorks Preparations 2: circulation of event:
Preparations 2 film: event concept & curation, filming & editing by Joseph Bradley Hill Live Sound Engineer: Kevin Shoemaker Audio Mastering: Oli Barrett
Recordings of the performances released on CafeOto's 'OTORUKU' label:
https://www.cafeoto.co.uk/shop/late-works-preparations-20921/
---
[Research festival] Reaching out to Jeremy Millar, to discuss my research festival proposal:
"Hello!, I am writing to you as a current MA Fine Art Photography student studying at Camberwell College of Arts.I have read your book with Afterall on The Way Things Go, and I thought it was incredible! After this, I browsed your site and it made a lot of sense to me when I saw the reference to Le Guin's Carrier Bag Theory of Fiction! Funnily enough, I read The Carrier Bag Theory of Fiction just before picking up my copy of The Way Things Go, and I am a great believer in the sort of intuitive serendipity that exists within the lineage of books one reads - I found the two to behave as companions to one another.
Your book and Le Guin's essay have become big inspirations, as well as a third companion to these meditations on functional transcendence, the power of humour/ deconstruction of the elevated, and rebellion against automatism, which I have found in Alex Busby's 1993 film Folk Art Found Me.In this film, we find a lot of this theory beautifully simplified in the life and work of several Nova Scotian folk artists, all of whom carry across a life lived and materials extraneous to the art world over into their practice.
I wanted to ask if you have some time available to talk in person. I have an idea that I would like to propose for an upcoming research festival, and I would also like to talk with you about further education.
Warm Regards, Jacob Clayton
(several emails to Jeremy and still no response, so I have changed my mind about what I am producing for the research festival. I will be extending my Lexicon produced for my July show - turning it into a zine and distributing it across several platforms).
---
[curatorial project] Interzone meeting 1:
Scans of Te's & Natsuki's applications
Through the Interzone open call, I selected the applications of Te Palandjian and Natsuki Iwamoto, two artists making work that considers the fragility of objects, the passing of time, and the perceived dualising energies of manifestation that are mind and body. The 3rd artist exhibiting will be myself.
After sending out the open call and reviewing the space I decided a smaller number of artists would be appropriate (now 3 including myself rather than 4/5). This is due to unique problems with hanging (many walls contain asbestos and can not be drilled into) as well as quite a low ceiling height - making the room feel quickly crowded.
I have had several meetings with the UAL Peckham levels studio supervisors discussing possible funding and improvements that could be made to the space - including new gallery lighting as well as false walls designed to hide a lot of the noise of the interior, as well as providing the ability to drill/hang/exhibit more wall pieces. However, bureaucracy is playing its part and although the Peckham Levels supervisors are more than keen to re-fit the space, turning it into a much more professional gallery environment, I get the impression from Anna that it is anyone's guess whether this can be organised before November.
Thus! I have selected appropriate artists, as well as myself, whose work is as much reliant on floor space as it is on wall space.
Already having these artists in mind I pre-emptively reached out to Te and Natsuki, strongly inviting them to apply. This open call created an opportunity for me to situate my work alongside artists who inspire and correlate with my practice, kick-starting the process by having the artists produce an application and therefore initiating thought processes towards the show individually before our first meeting. As I have written about previously, with disappointment, or lack of enthusiasm for big/ broad/ large scale university/ showcase exhibitions, this is the manifestation of a wish to situate my work in a place with a fitting purpose, and sensitivity to my practice.
Highlights/ notes from Natsuki's application:
"[...] Interplay between subconscious imagery and reality"
"[...] emotions linger, and time and space become suspended, using the language of fragility, childhood, temporality, and in-betweenness"
3D / 2D - different dimentions. The constructed / the taken apart.
"[...] expansion and contraction" ... a respiratory process? makes me visualise a cycle, a chain reaction. Elements coming from... and returning. Works of works... attaches itself to recent developments in my practice where I have painted 2D boards to then be cut up as a net and formed into a 3D object... as well as producing paintings/ drawing studies of sculptures/ paintings that I, as well as others have made... as extensions/ spawn of the sculptures/ painting themselves.
This also correlates to the intentions of my other curatorial project 'Treasure Hunt'... as works made & curated are with the pre-determined purposes of triggering new visual re-analysis and the producing of follow-up pieces.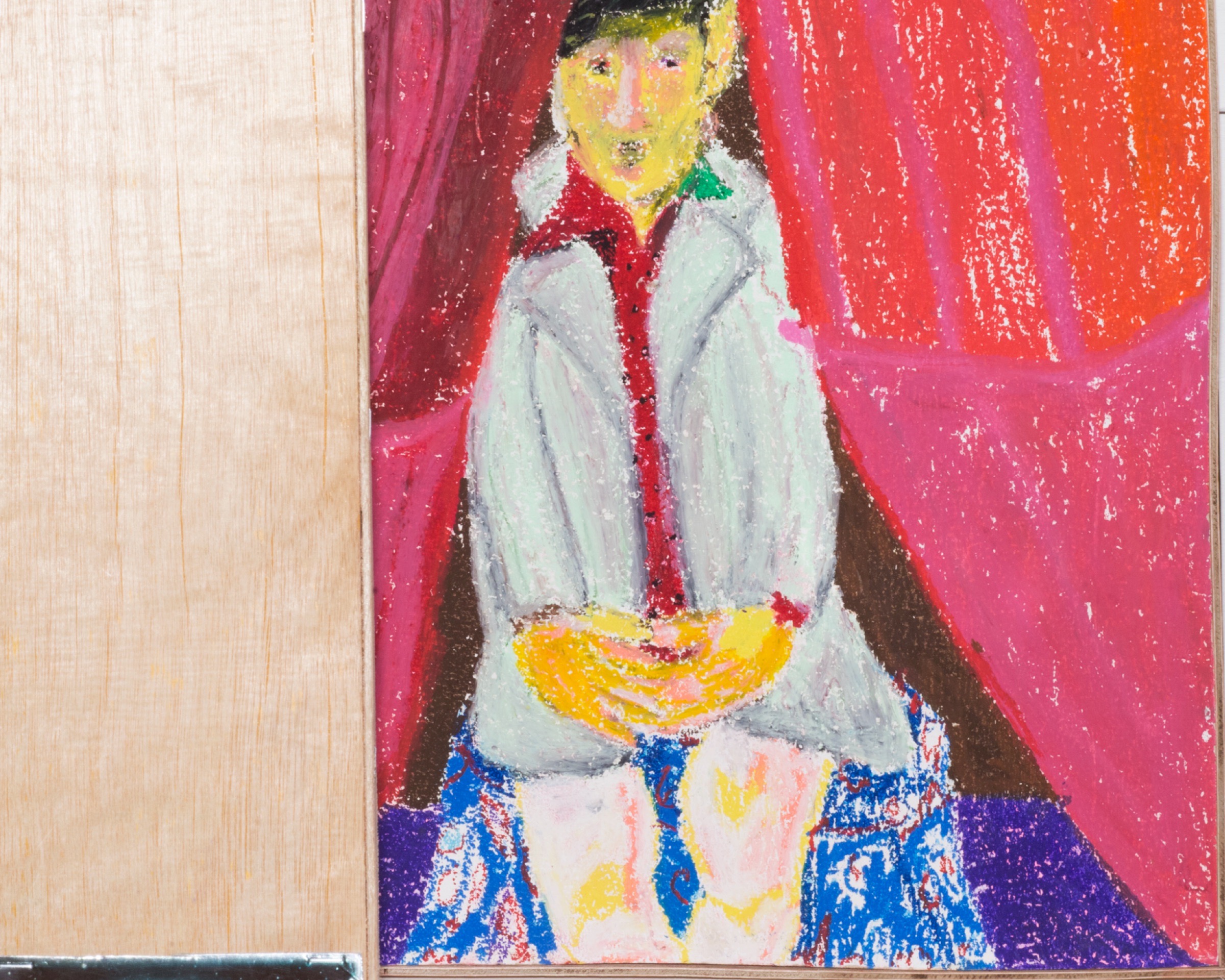 Jacob Clayton: 'Boy sitting on a stool, whistling', 2023, Oil Pastel on MDF W/ ply artist's frame, approx 60x50cm [Work made in responce/ copy of Amrit Singh Sandhu's 'Young boy on stool', 2022, coloured pencils on paper, 9.5x6.5"]

Amrit Singh Sandhu: Young boy on stool, 2022, coloured pencils on paper, 9.5x6.5"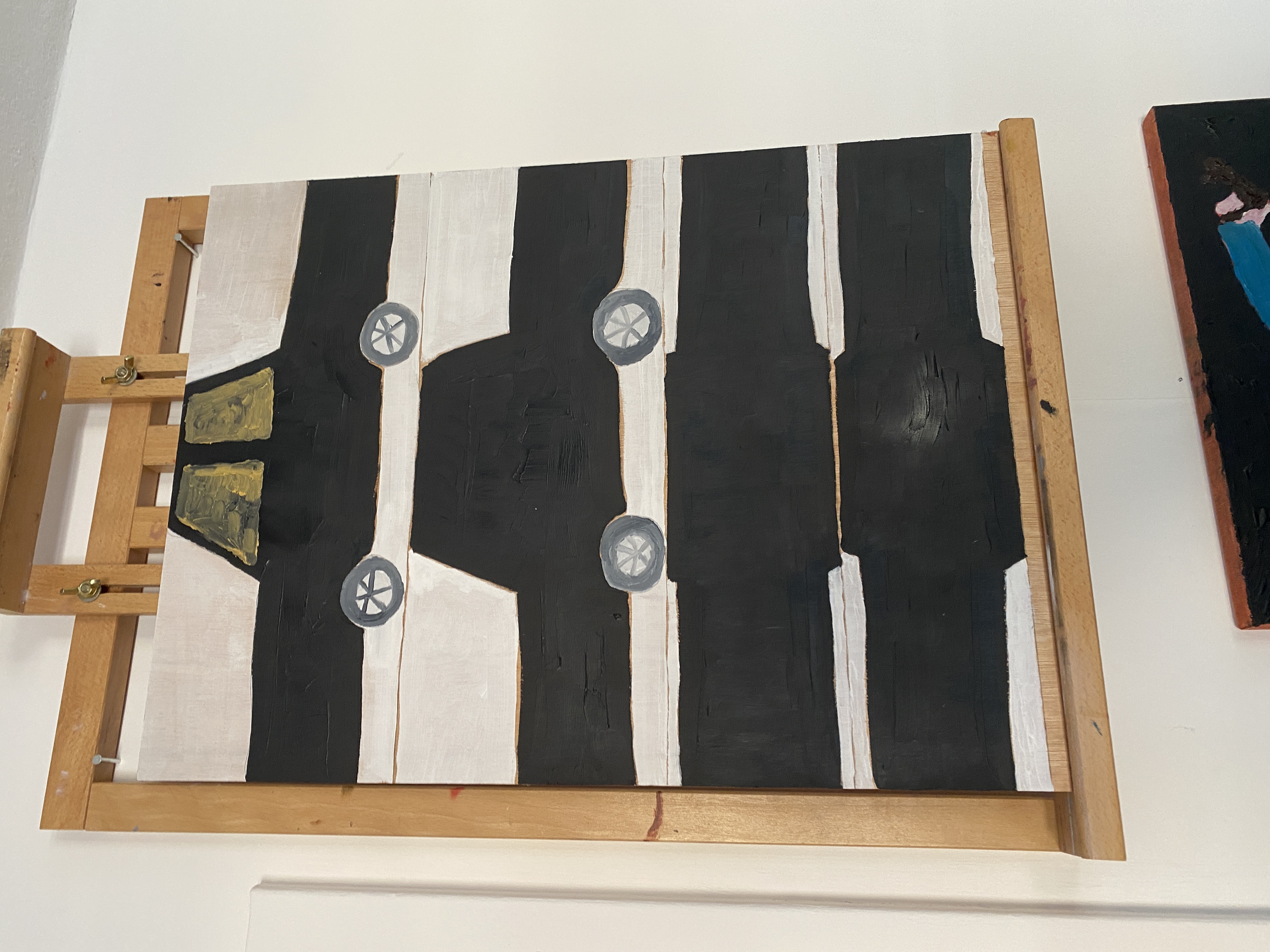 Jacob Clayton: Taxi, 2023, Oil and found objects on ply, approx 11x3x8cm
"[...] rational order is suspended, existences become ambiguous, space-time is floated, and sensations linger, often without a clear story. It is a sensitive bare space"
"[...] deconstruction and generation of energy. I often listen to such voices of mind - or body, figure out how they work, or have exercises on our spirit by connecting that level of consciousness, through the process of making works"
CEREMONY, RITUAL
"[...] the place things come and go" ... which is the site of art. This line brought me back to an analogy I made up and used to use a lot more frequently, describing the space of art... be it through an individual, a show, a publication etc... as a 'Substation'.
A substation is a middle-man-plant between a source of energy production and the consumers of said energy - converting raw electricity into usable voltages for industries and households.
I have often seen the artist's process as a similar act of converting - dealing with X (inputs) and a filtering/distillation/ conversion through oneself and one's surroundings, towards producing a shareable output.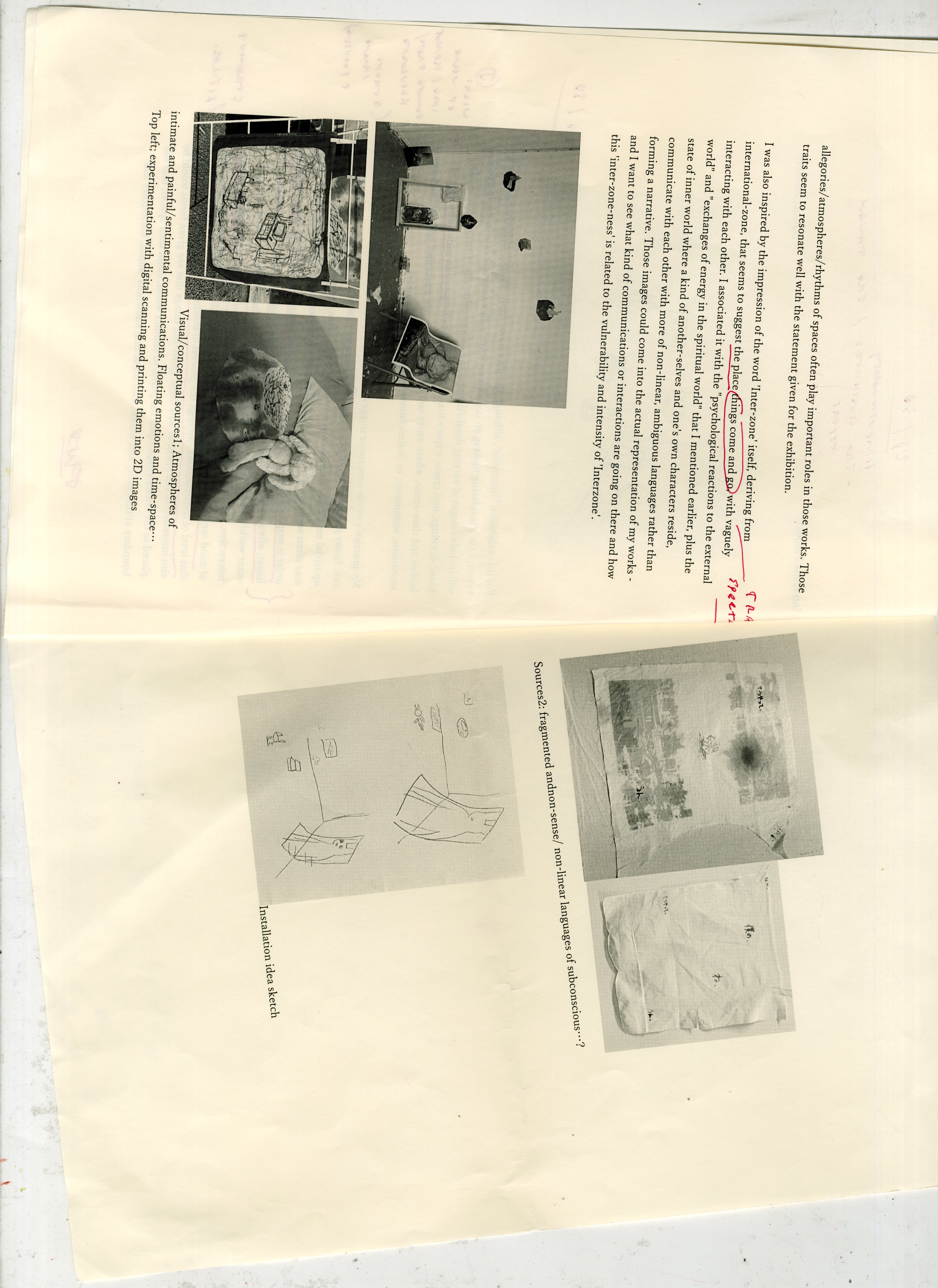 Scan from Natsuki's application
Highlights/ notes from Te's application:
"[...] feminist and racial commentary in her direct relationship to her environments, and researches the migration of natural objects, the ground as an artefact for the study of the self and history, and the properties (colour and texture among them) of organic materials"
"[...] under a microscope [...] re-engineering the way we look [...] an entire new space appearst to be generated. To me 'Interzone' encompasses this idea, where you take a seemingly understood space, and find a way to reveal a space between spaces [...] altering your perspective (psychologically or physically)"
BIOLOGICAL, RE-ENGINEERING, SPACE BETWEEN SPACES. AN ENTIRE NEW SPACE SEEMS TO BE GENERATED
MACRO/ MICRO. DICTOMY OF BODY AND MIND/ OBJECT AND SUBJECT
"I attempt to battle against its walls [...] architectural interzone" ... evokes recent readings on the symbology of the weapon/ fortress:
P 1091, The penguin dictionary of symbols:
"Weapons are instruments intended to counter the monstrous and which become monsters in their turn" (1)
A CYCLE/ CLOSED LOOP... A THRESHOLD WHICH ONCE CROSSED MAY NEVER BE RETURNED (ATOMIC)
"[...] forged to fight an enemy, they may be turned from their purpose and used to intimidate friends and neighbours. Similarly, fortifications may serve both as a means to absorb the shock of invasion and as springboards for aggression. The ambivalence of weapons is that they may simultaneously symbolize the instruments of justice and of oppression, of defense and of conquest" (2)
Te continues:
"I dug iterations of the same hole in a plot in my garden, casting each iteration in plaster. In addition to the reprieve of the garden, my Interzone was the psychological shift induced by hole-digging"
PROCESS/ PERFORMANCE... THE ACT OF THE WORK AS EQUAL IF NOT PRIMARY TO THE OUTCOME/ PHYSICAL 'BY-PRODUCT/ ART OBJECT
WE SEE THE ARTEFACT OF A PROCESS
There are walls, and then holes (doors?) ... methods of escape from a confining architecture?
A breaking of opressive architecture, BATTLE? or ESCAPE?
Scan from Te's application
conversation between Te, Natsuki and myself at the first Interzone meeting 21/09/23:
What happens when fragile objects linger?
Holes as an escape from oppressive space.
biomes/ecosystems, each new hole provides a new environment.
Need to overturn, the space flips constantly.
Meditation, angst, relief.
Objects breaking
Pairing/ the double - sitting ourselves in-between
Photography as research/ theory as material
Creating an expanse
Research is the medium (process over outcome)
ALL READING AS ORBITING CONCEPTS OF WORLD BUILDING.
Personal notes post-meeting, reflecting, preparing for 2nd meeting:
Erosion of surface, structures weakening - time, as it elongates, becomes visually hazardous/ facilitates the hazardous to emerge.
Time-based decay, melting, eroding, collapsing. Something to do with the human body... time towards death, decomposition, metamorphosis, re-emergence.
Wet clay, things that can visualise duration.
The photograph is a time capsule.
Falling apart as metamorphosis
KAFKA - Metamorphosis, BURROUGHS - Naked lunch, BALLARD - Crash... all dealing with collisions into new forms... new manifestations of the body, experiential, and at odds with the external.
Ageing as transformation. Cycles, growing (Hilma Af Klint).
Not degrading downwards but upwards
Becoming, transformation, ascension, epiphany.
The adaptability of materials (Natsuki) ... paper falling, won't break.
Like leaves from a tree, or seeds in the wind. Adaptable, built for transformation., performance, matamorphosis. A new constellation formed.
As opposed to my recent work... fragile and precarious, but with susceptibility to break/ damage... falls into disrepair. Materials visualise a lack of adaptability, like a tall building.
Towers don't have an afterlife in the same way trees do... does this highlight the differences in sensibility between nature and modern humanity?
Natsuki's work I see as being more inclined towards an afterlife... as if its very purpose is to engage the processes that induce that afterlife... acceptance and a looking towards what is next.
1, 2- Chevalier, J., Gheerbrant, A. and Buchanan-Brown, J. (2008a)
The penguin dictionary of symbols
. London: Penguin.
---
[curatorial project] Interzone meeting 2:
I asked Te and Natsuki to bring work and research to this meeting to discuss, and I brought books to the 2nd meeting to help discuss and direct themes emerging from our previous meeting as well as my notes:
I discussed the artworks of Chris Drury in relation to themes in Te's work - mostly the human and human body acting in a natural/ nature space, as well as the writings of Ursula K. Le Guin (The Carrier Bag Theory of Fiction), William Gibson (Neuromancer), J.G Ballard (Crash), William Burroughs (Naked Lunch), and Fischli and Weiss (The Way Things Go).
Through these works of speculative/ science fiction, we discussed wider themes of world-building, and the use of fictional space/ vessels in science-fiction as simulacrums for experiences of reality and tools for tackling seemingly infinite ideas on the human soul, time/space, existential realities.
I expressed at this meeting that the most important thing we can do is to continue to freely make work, although now with the knowledge (held at a distance) we would start to collect things together in 'bags'. We all seem to be on the same page that the exhibition is serving as a conduit for discovering and communicating shared truths... all with an experimenter's intuition that our varied outputs will provide alternate, individual extensions of the same strand of thought.
Natsuki spoke more on the idea of expansion and contraction in her art. she spoke about foreign objects about the human body which alongside Te's description of plans to cast "Spinal pieces" instantly had me visualising the famous scene from Ridley Scott's Alien (1979).
Natsuki spoke about using "raw materials" which in the context of her work describes unpainted wood and clay. I took her description of 'raw materials' to describe art materials that are yet to be finished or refined... building/ construction materials - timber, plasterboard, sketches etc. She concerns these materials as representing foundations, which may provide an allegory for the body form as separate from the embellishments of the mind.
Te spoke about distortions of the body... spinal looking works. she spoke of symbiotic relationships between feeding bugs and plants - not being able to decide on a method of intervention between her cactuses and some parasitic bugs.
We spoke about the intervention, the notions of larger and smaller organisms, conceived hierarchies... ideas of the parasite, feeding and sustaining.
I leant Te my copy of Crash, as well as The Carrier Bag Theory of Fiction.
I spoke about my post-meeting-1 notes, and the potential of me producing works as studies of Te's and `Natsuki's work (for example a sculpture in response to another's) - as I have done in my practice/concerning my works. This became an exciting idea for collaboration for all of us.
Finally, we discussed that the title of 'Interzone' - although the title for the show prompt/ open call - would likely be replaced by a naturally forming new title relating more directly to the outputs of this process and shared reading materials.
---
Interzone meeting 3 / Individual meeting with Natsuki in her studio: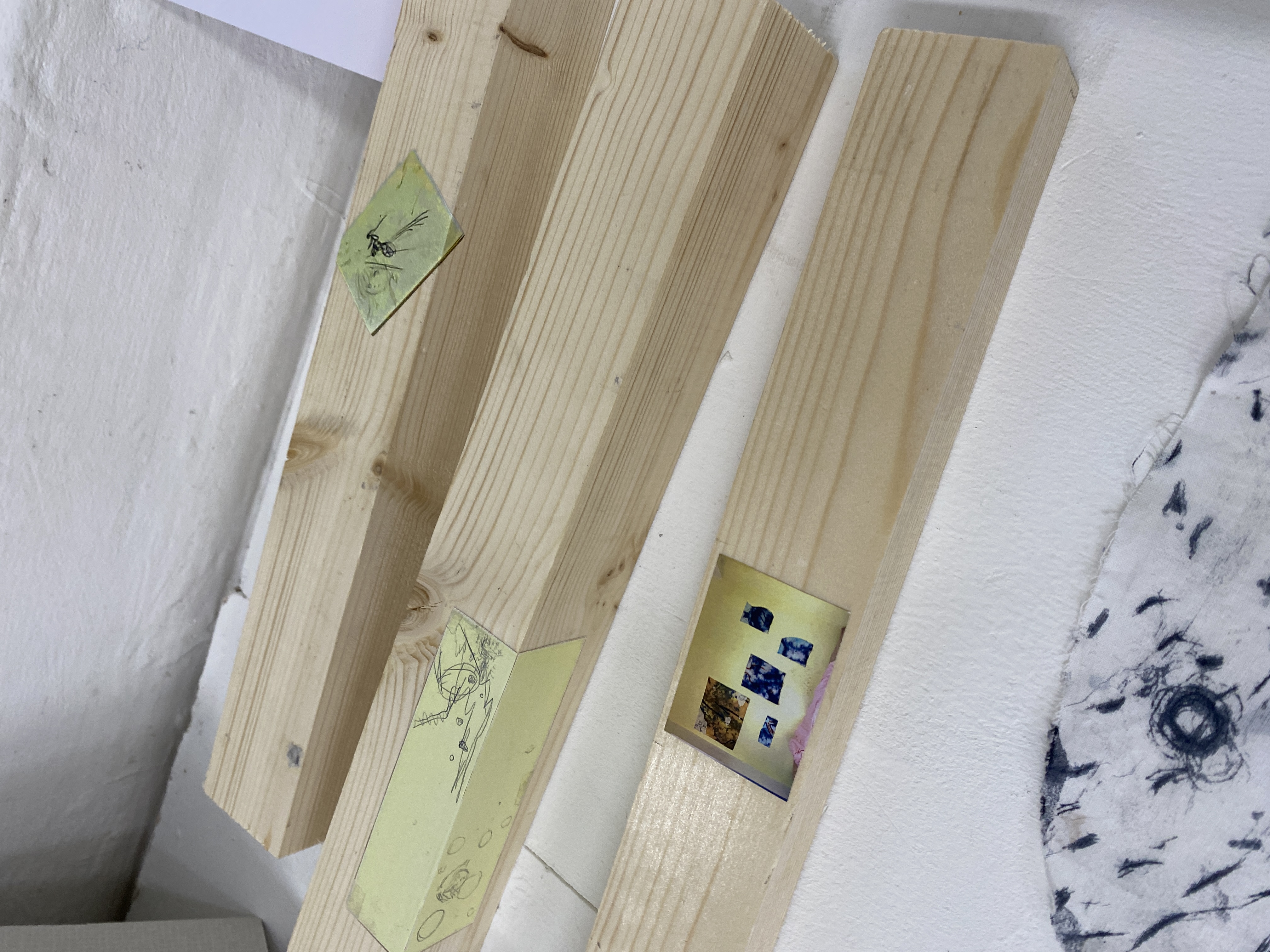 Works in progress towards Interzone, in Natsuki's studio
No story / but manipulation - distortion of time and space
The opposite of story/ narrative - which is located within time and space.
Displacing - a symbolic act of combining (defining assemblage practice?)
Objects from everyday life (washing liquid bottle, a child's toothbrush)... bringing things of the mind into reality/ the physical realm and things of the physical realm into the mind.
purposely confusing these two worlds
Like looking at something in the mirror. A simulation, simulacrum, something reflected.
Things that linger in the mental world materialised - through the filter/ gause/ baggage of the 'raw material' ... construction material.
The material world is symbolised through building materials, and archetypes of world building - timber, clay.
The mental world through drawing, and image making.
Works remain unfinished... as Natsuki states "on their way to becoming something".
They "need to be flexible" she says. One can see this in how her recent works are stackable, designed to be arranged and reconfigured like independent figurines from the same TV show.
She says there is a Japanese aesthetic tradition of keeping things incomplete... something like "the beauty of incompletion"
Natsuki tells me of a Temple in Japan (Hōryū-Ji) which is designed to be in a constant state of unfinishedness, requiring endless maintenance to keep it standing. She describes it as a 'metabolism' which reminds me of an excerpt from a handout at 'Afterlife' - a recent group show I saw at Indigo+Madder (01-30th Sept 2023) - "The processing of emotions is compared to the biological process of digestion: slow, fundamental, and winding through the digestive organs".
We talk about the contradiction of aiming for incompleteness and how it applies to both of our works, Natsuki used the term 'complete incompletion'. She says "I am particular about everything, but I am aiming to produce incomplete things".
She tells me a famous story of a Japanese monk who became well-known as a meticulous gardener. After much work cutting and pruning, cleaning and raking, his work was finished when he picked a single leaf from the meticulous garden and tossed it to the floor.
---
Still life from home studio, 10/10/23. Works made in consideration for 'Interzone' show. Meditating on internal space/ and its collision with external space... forms of shrines/ altars...playing with the study/ duplicate... 3D printing, and combining 'real-world materials' (American quarter/ house of pentacles) with found/ archived imagery and physically torn-out notebook pages.
---
[JAAM colaboration through publishing] 'Making a bag with' series, #1 with Natsuki Iwamoto:
As JAAM evolves, we have been looking at what we want to achieve through the platform. Having released 2 publications, we felt it was the right time to expand our scope for working with admired artists, initiating our 'Making A Bag With' series, and inviting our first collaborator (who is not a founder of the organisation) to work on a publication together.
'Making a bag with' is designed to be an ongoing project in which an artist is invited to produce a work of art, with the bag form being the prompt, an everyday object, with connotations of function and containment. The process of creation itself provides a performance which is witnessed /documented/ recorded... re-presented, and published by JAAM alongside a short interview/ piece of writing about the artist, in the form of a low-cost, highly circulateable zine. The idea of this project is to put focus on process and to find treasures/ expression/ personality in all the micro-events that can become so easily hidden behind the presentation of a 'compleated' / finalised art object. Resulting in the event of making a bag, there are two outcomes; the bag (existing as a unique art object) and the record of the event (which becomes the multiple, distributable form). This becomes a colaboration between participant and spectator... the lines becoming blurred through the publication process, through actions of revision and artistic licence in reworking and sequencing documents.
Both bag and zine are made available for sale, with all proceeds of the sale of the bag going directly to the artist, and zine sales covering the cost of production. For these events, JAAM provides all basic materials and equipment needed for the production of a bag, including the location of the event, as well as technical supervision. With Natsuki we discussed beforehand that the idea was to provide enough material and space/ time so that something could be made spontaneously on the day, the idea being that all of the creative energy would be contained within one continuous performance of making. Mirroring this, Amrit and I took on the role of the spectators - making sure we had various cameras, and recording equipment available - maintaining a situation in which we could intuitively respond to Natsuki's process as we observed. We all felt this spontaneous response to each other was the crux of the project.
During this event, a hand-held video recorder quickly became a preferred mode of recording, Amrit had the idea of capturing as much movement as possible which could later be combed over and used to produce stills. Focus was put on drawing details, hand movements, and organisation of space. Another gift of this technique was that now looking back over the footage, short conversations have been captured in which Natsuki and I discussed ideas relating to both of our practices - including simulation and its function in Japanese culture, through virtual idols, VTubers etc. At this moment, I am collecting all of the raw data in preparation for the process of editing a publication. Once designed and produced this will be circulated online and in selected bookstores such as South London Gallery, BOOKS Peckham, and Printed Matter (NY), some of which I have previously been in connection with and who have distributed publications that I have worked on in the past. Although the zine for event #1 is still in publication, going forward, for our second event we have had the idea of creating a chain in which Amrit and myself operate as publishers, inviting the last participating artist to be the documenter of the next. We hope through this to hone in on the conversation between participant and spectator, pairing artists with these collisions and potential conversations in mind.